"ShockProof" Lockers - Tough lockers for tough environments
Steel bodied lockers supplied with a solid grade 10mm laminate door. The solid grade laminate is SHOCKPROOF, impact resistant, scratch resistant, moisture resistant, graffiti resistant, wear resistant and easy clean.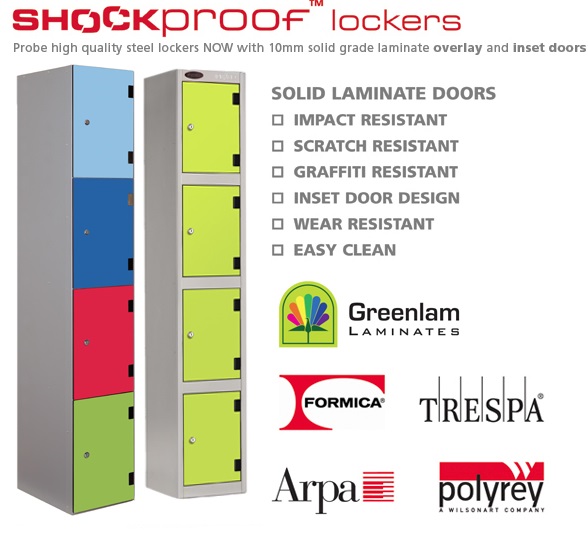 Choose from either an INSET door or an OVERLAY door
Greenlam Laminates
SOLID LAMINATE 10mm FIRE CLASSIFICATION
Product has been tested for spread of flame across its surface and to classify the surface according to the test given in British Standard 476 : Part 7 : 1997. In accordance with the class definitions specified in the Standard, the test results show that the product tested has a Class One Surface Spread of Flame.
Other fire classifications are available on request.
New 180 degree opening hinges to give the maximum available access to the locker compartment. The hinges incorporate an integral securing plate which clamps the door to the hinge for increased levels of security. The locker body incorporates welded compartment dividers with internal door stop and sill.
Laminate doors available in the following stock colours and also the non stock colour below (subject to a min qty).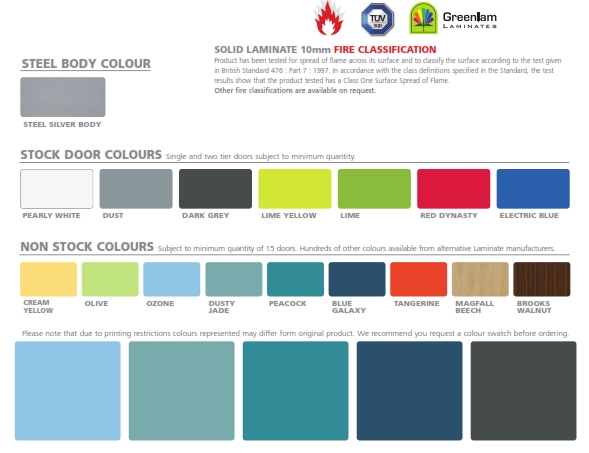 * STOCK DOOR COLOURS Single and two tier doors subject to minimum quantity.
AVAILABLE IN 1, 2, 3 AND 4 TIER
PEARLY WHITE
DUST
DARK GREY
LIME YELLOW
LIME
RED DYNASTY
ELECTRIC BLUE

**NON STOCK COLOURS Subject to minimum quantity of 15 doors. Hundreds of other colours available from alternative Laminate manufacturers.
AVAILABLE IN 1, 2, 3 AND 4 TIER
Single and two tier doors subject to minimum quantity.
CREAM YELLOW
OLIVE
OZONE
DUSTY JADE
PEACOCK
BLUE GALAXY
TANGERINE
MAGFALL BEECH
BROOKS WALNUT
OAK

Please note that due to printing and display restrictions, the colours represented may differ form original product.
We recommend you request a colour swatch before ordering
Prices include either of the standard lock options.
Type A CAM key locking supplied with 2 keys per lock with Master Keys available or Type B Hasp and staple locks to be used with your own padlocks.
Wide range of optional lock types also available.
Instant customer accounts for academic organisations so you can simply place your order and we invoice you following delivery of your chosen products. If ordering online please select "Pay by Cheque" option if want to be invoiced and you do not want to pay by credit card.