Zen stands
150mm High Stands. Available in depths to suit you chosen locker depth and also available with optional Solid Grade laminate plinths to match you locker doors.
Available as a SINGLE Stand for one locker.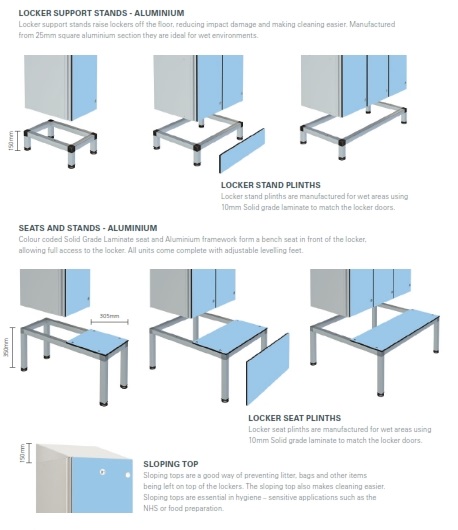 Also available as a Nest of 2 or Nest of 3 stand for 2 and 3 lockers.

AVAILABLE DEPTHS
400mm
450mm
500mm

AVAILABLE WIDTHS
300mm
400mm

ALUMINIUM Construction - This strong, lightweight and corrosion proof material is perfect for areas that may encounter water or high humidity.

SOLID GRADE LAMINATE Optional Plinths - Super strong and stylish doors available in many contemporary colours.
Available Colours
Please note minimum door order qty for Non Stock colours. 30 door per colour required.


Features & benefits
Aluminium body with reduced radius corners give full width shelf to back of locker.
Aluminium shelves, fixed firmly into position adding rigidity to the locker
Doors manufactured from 10mm Solid Grade Laminate
Suitable for wet, humid or dry environments
A stylish solution with plant on doors giving a flush finish and no visible frames
Heavy duty self-closing hinges engineered to prevent the doors opening across adjacent compartment
A range of quality engineered locks available for wet, humid or dry environments - see pages 8 & 9
All lockers are supplied fully assembled and can be nested side by side with no visible gaps
Extruded aluminium frames engineered for added strength and stability


SOLID GRADE LAMINATE WITH FIRE CLASSIFICATION AVAILABLE AT ADDITIONAL COST
Tested for spread of flame across its surface and to classify the surface according to the test given in British Standard 476 : Part 7 : 1997.
In accordance with the class definitions specified in the Standard, the test results show that the product tested has a Class One Surface Spread of Flame.
Other fire classifications are available on request. For fire rated applications please contact us for information.


LOCKER SUPPORT STANDS - ALUMINIUM Locker support stands raise lockers off the floor, reducing impact damage and making cleaning easier.
Manufactured from 25mm square aluminium section they are ideal for wet environments

LOCKER STAND PLINTHS
Locker stand plinths are manufactured using 10mm Solid grade laminate (SGL) to match or contrast with the locker door