Everyone is well acquainted with storage cabinets these days. After all, most people have them in their homes for storing an array of objects. In a similar sense, there is also the other type of storage cabinets that are used by multiple industries. These industrial cupboards are customized for heavy-duty industrial use and offer better safety options.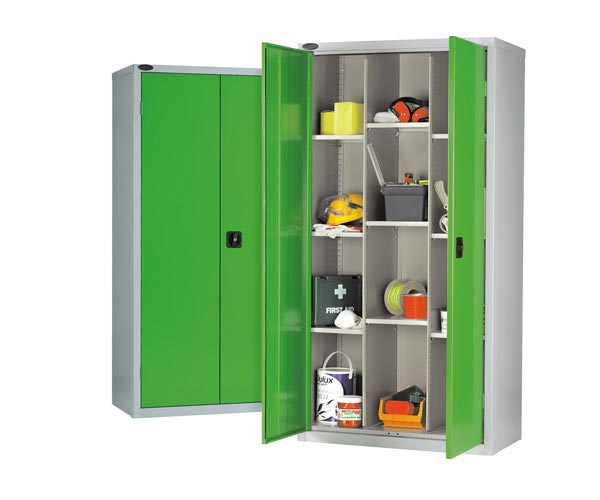 You can utilize industrial cupboards in several ways to store equipment, substances, tools, inventory stock and PPE. These cupboards provide workers with ample space for storing all their belongings in a safe and tidy manner. Following are some ways you can ensure the safety of your workplace and employees.
How to Use Industrial Cupboard?
Industrial cupboards UK are available for a variety of settings, such as hospitals, science laboratories, factories, warehouses and offices to store cleaning products and other hazardous materials. Every person must ensure not to leave these cupboards unattended, particularly in places where many people have access to them. Every workplace should have clear and strictly enforced guidelines for using these substances.
How to Choose Right Industrial Cupboard?
Industrial cupboards come in a range of shapes, colours and sizes. It is vital to choose an industrial storage unit that is large enough to store all of the tools and substances used in the workplace. Also, ensure it has enough space left to allow easy access and allow later additions when required.
The shelves in a cupboard should have an elevated edge to prevent spilt substances from leaking down on to lower level shelves. Take a bit of advice from an industry expert if you run a business dealing with hazardous substances and tools. They would be able to guide you on the exact nature and variety of storage cupboards you should be investing in.
What is the Best Way to Store Substances?
If you are storing substances hazardous to health, use industrial cupboard exclusively made for it. The metal storage cabinets ensure that is doesn't lead to any contamination while stored in it. Any substance that is reactive, volatile, unstable or corrosive can cause a threat to human safety and is, therefore, best stored away safely in industrial cupboards.
Access to such materials has to be severely restricted, and for this purpose, such storage units come with strong doors and highly reliable locks.
What Types of Locks Do the Industrial Wardrobes Have?
Industrial cupboards come with a variety of locking options to keep invaders and trouble makers at bay. You can choose one from the available options like smartcard locks, digital combination locks, radial pin locks and cam locks, among others. Each type has its advantages and safety features. Based on the suitability of the location and its usage, pick the most appropriate lock.
Research well and try different lock options before narrowing down the best lock for your industrial storage unit.
What Materials Are Used to Make Industrial Cupboards?
A workplace site is a challenging setting for both peoples and material. The metal cupboards are sturdy and durable, meant to protect the materials stored in it.
Moreover, metal cupboards last for a long time, making investing in such facilities worth every single penny. The best feature is that these are easy to work with and maintain. All you need is a piece of damp cloth to clean the metal cupboards.
Keep the Workplace Safe and Clutter-free
Choosing the right industrial cupboard is the right and the safest way to use them. Always go for one that meets the needs of the setting you are in as it will be used as an inherent part for ensuring a safe workplace for all employees.
So when you are checking out the store or web for industrial cupboards UK, do keep in mind all the above significant points for safety.