The right dimensions and the furniture in a cloakroom can have a profound impact on the user experience. The styling, material and built of a cloakroom locker plays a big role in ensuring that place's professionalism and reliability.
It might be difficult in the beginning to choose from an array of options. To avoid confusion, read this handy guide and get the locker that suits you best.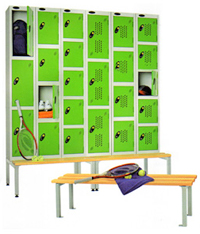 What are PPE lockers?
The Personal Protective Equipment at Work Regulations, 1992, mandates the provision of appropriate lockers for PPE to prevent them from damage or aseptic conditions.
Each locker compartment door has a label on it and contains a number plate holder for segregation and to mark the contents. The locker is complete, with a halt shelf and coat hooks.
A "Clean and Dirty" locker sports a divider in the centre to keep laundered and contaminated clothes from coming into contact.
Are There Separate Lockers For Mobile Phones?
Yes! Originally thought of, for the protection of Police Mobile Radios, these lockers are now present for the civilians as well. The metal lockers are made specifically for the storage of small objects that are prone to get misplaced such as mobile phones, wallets, keys, mp3 players, cameras etc.
Because of their size, they can either be installed on the walls to save up on the floor space or they can be stacked one on top of the other or arranged in a line.
Which Lockers Are Best Suited For Moist Areas?
Wet Room lockers are perfect for damp areas or places which require getting washed down frequently.
They're made from pre-coated galvanized steel with an added layer of powder coating and are drilled from beforehand to facilitate nesting. Rubber buffers and ventilated doors prevent the dampness from settling in.
Lockers with multiple doors are equipped with a security shelf for the storage of valuables.
What Type of Lockers Should Hospitals and Schools Go For?
Sloping Top Lockers. As the name suggests, the roof of the locker sports a slanted design to prevent littering or forgetting things on top of them. They range from a single compartment to multiple ones, depending upon the requirement.
Salient features of these lockers are their sturdy metal built, five-knuckle hinges to fortify the internal doors and added vents. They have an antibacterial coating which prolongs their life and keeps them in use for years.
What Is The Best Personal Locker For Apartments And Professional Institutions?
Post lockers are the best for these areas. They can be accessed only by the key-holder and are great for depositing posts and other small items in flats or as a feedback box in various departments.
Are There Stylized Lockers For Public Places?
The QMP timber door lockers match aesthetics and protection, with ease. Their body is made of powder-coated steel and the doors have a distinct timber effect to them. They also have soft closing hinges to prevent the material from straying.
Which Locker Is A Must-Have For All Areas?
Mishaps can happen anytime, anywhere. Taking precautions prematurely doesn't fail anyone. Fire-resistant lockers must be kept in every space, especially offices and establishments that are frequented by children.
What makes them reliable? The Fire Guard tested materials that qualify up to EN 13501-1 standard. The security shelves in them are galvanized to prevent rusting and are amply ventilated and buffered.
A locker for cloakroom must be well ventilated and their plinths must not impinge into the floor. Individual compartments should be easy to sanitize and handle both for the owners and the people using them.