Early childhood education plays a vital role in children's overall development and healthy mental growth. Apart from developing a suitable academic curriculum and providing well-qualified educators, many other factors make the learning more compelling for the preschoolers. There are several significant early childhood education furniture trends emerging worldwide to help kids learn from early on. Right preschool furniture can considerably enhance the appearance of any classroom and make formal education engaging and appealing for your little ones.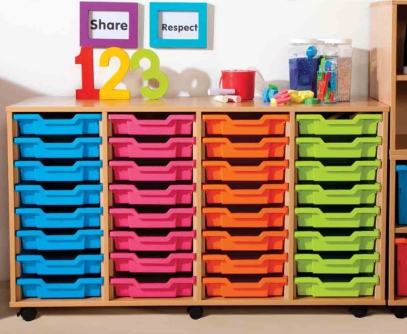 Whether you are an educator keen to update your classroom furnishings or you need extra storage space in your preschool, you are guaranteed to find exciting options of chairs, desk, bookcases and storage solutions in these trends. Here are some educational furniture trends that preschool educator should know.


Beech – Tray Storage Units
Tray storage is easy to maintain and convenient form of storage option available for preschool classrooms. Made from beech finished MDF, these thoughtfully designed storage units not only help to keep the classrooms clutter-free but also improve the shape and function of space available. These tray storage units are available in a wide range of colours, shapes and sizes that perfectly resonates with the learning and playful environment of classrooms.
These tray storage units are specifically designed to withstand the daily rigours of a busy school or nursery environment. Using playful but well-organized storage helps to keep toys and other learning aids under control and separate the space. It is a stunningly effective and fun solution to incorporate in the classrooms.


Music Storage for Music Instruments
Exposing your child to different types of music can help them develop learning and cognitive abilities. Hence, every preschool has started to imbibe music education in their basic curriculum these days. If you have musical instruments and kids around, it is essential to invest in a proper music storage option to keep the musical instruments away from the reach of the toddlers.
Musical instruments that are left around usually get moved carelessly in addition to gathering dust and grime. Having music storage in place is helpful for storing all the music instruments once not in use. Ensure this school storage unit is robust and hardwearing.


Study Carrels for Enhanced Learning
In the age of distraction, study carrels are a enormous help for kids. When a student studies in a carrel, comfort level is going to be paramount to facilitate them concentrate on their project. Also, early learners need to have school chairs and activity tables suitable for their age and size so that they will learn how to sit properly and work perfectly from the beginning.
These light-weight study carrels are easy to move and provide the students with a steadfast environment to absorb the information and learn without distractions.


Easy Erase Marker-board Top Desk
Easy-erase marker-board top desks are a popular choice for preschool classrooms. Kids love art and love to scribble on desks and walls. These easy-erase desks make the classrooms fun and encourage creativity in kids without restriction or worrying about the spoiling the desks. Made from durable high-pressure laminate desktop furniture add versatility and function to your classroom in a playful manner.
Many preschool educators use these tables separately to seat individual students or push them together to create a collaborative workspace. Make sure to check the quality of these desks. Ensure that these desks are built to withstand daily use in busy classrooms.


Multipurpose Art Cupboards
Art is just as important in the preschool curriculum as reading, writing, science, and all the other areas of learning. Art allows the kids to practice a wide range of skills that are useful not only for life but also for learning. But keeping colours, paints brushes, canvas, and other art equipment in place after use a little messy. These art equipment need to be stored in a proper and neatly arranged manner for a longer life.
Art equipment storage is a popular choice to keep art equipment in place. These multipurpose art cupboards keep the art supplies organized and easily accessible to children. These double fronted storage cupboards are designed for storing art and craft supplies such as such as glue, scissors, string, glitter, foam shapes, stickers in separate storage compartments.
Know the Latest Educational Furniture Trends
Choosing colourful and creatively-shaped furniture is extremely useful for early learners to keep young minds and imaginations growing. Also, having smart preschool furniture in the classrooms help children to learn in creative ways and make most out of the formative years of children.
If you're looking to refurbish your nursery, find reliable education furniture UK manufacturers online to overhaul your preschool furnishing by adding a splash of colour, more fun and convenience to your classrooms.