Optimal storing is all about maximizing your available space resourcefully. With a suitable storage unit, you can store more items and utilize the available space better. The best way is to select ideal storage and organization tools. Buying a storage unit now a days doesn't consume a lot of effort, but there are several types of storage units available to suit your needs. There is a wide collection of storage systems present, from metal industrial units to plastic shelving out in the market. But before you buy, just look for features such security, quality, efficiency and expediency in a storage unit.
In today's life, keeping things safely and properly organized in an appropriate place is a huge challenge. Thus, there are a lot of different kinds of storage solutions available in the brick and mortar stores as well as online stores, supplying high-standard units for optimally storing our valuable belongings. The fundamental benefits of any storage unit are that they reduce mess, save storage space, add beauty to the interior decor, help in retrieving the stored stuff opportunely and very importantly eliminates theft and misplaces.
Diverse categories of storage units : Lockers :
The prime characteristic of the locker is that they are commodious and sturdy and can not be broken through very easily. Lockers are made of different materials such as steel, metal, plastic, wood, wire mesh etc and crafted into different designs. Buying the right kind of locker that suits storage requirement at home, banks, shop, workplace, school, libraries, gymnasium, warehouse, industries etc is now not a herculean task as they are available in myriads online at a cost-effective rate. Thus, your stuff, if stored in a quality storage locker can be safe and secured for as much time you want. The advantages of using a quality storage locker are that it offers unequaled security while letting air circulate freely and light to penetrate fully.
Cupboards and Cabinets :
Undoubtedly the storage cupboards and cabinets are among the most purposeful pieces of storage furniture for industrial, residential and commercial necessities. These storage units are available in a range of styles, material, patterns, shapes and they are quite a spacious storage solution for loads of goods. They are categorized under metal, aluminum, metal bookcase, work benches, lockable storage cabinets and cupboards etc. A lot other places use them are kitchen, garages, warehouses, schools, corporate, shops and more for storing proper stuff. You can get a ready-made form of it or get it customized by yourself. The newest models of cupboards and cabinets also come with total security features, and the locks used in them can vary from the standard lock and key systems to digital locks.
Shelving :

The usage of archive shelves is growing tremendously, as they are a perfect storage solution for all types of things you would love to store. This high-density unit not only save space but are equally money saving structure too. Shelves that you can amend or adjust are useful because you won't need to reinstall them if your storage needs modification. Furthermore, a storage unit with unique shelving standards and brackets can be reconfigured rapidly and effortlessly.
Mobile shelving is also a popular storage unit which is quite useful in where there is a crisis of space. The key purpose of a mobile shelving solution is to increase the volume of your storage with its mobility feature at the same time creates extra storage space, transferred to space available and easy to install compared to traditional storage systems.
Racking :
Another effective storage unit is racking which has a lot of versatility, molecularity and flexibility due to which it is used in various industries and warehouses. Racking is known to be an efficient storage solution because it provides direct access to all items stored, can be easily installed and adjusted and uses space economically.
Educational Furniture :
The educational is particularly designed for the classroom as a child can have an enhanced learning experience only in a convenient environment. With a huge diversity in styles, colors and patterns educational furniture meets the complete requirement of the academic environment. You can choose from the assortment of furniture such as exam desks, office storage, study carrels, art equipment storage, instrument storage, room dividers, tray storage, cupboards, bookcases, lap cabby and lot more. The educational furniture should be exceedingly durable and must be able to endure the effects of time.
Mobile Phone Storage :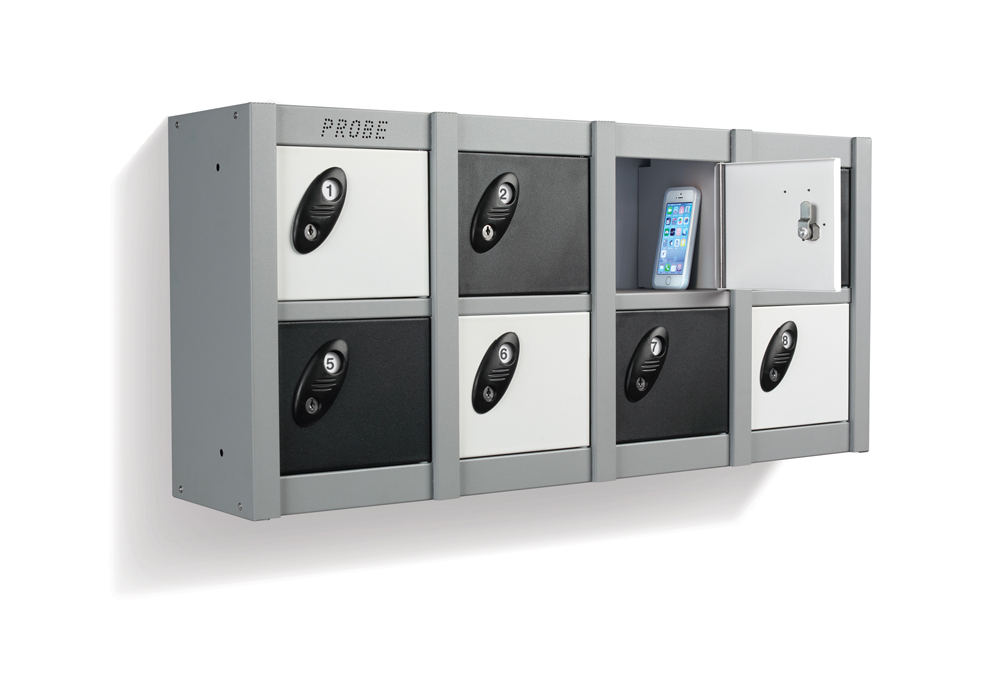 Mobile phone storage units are an outstanding option for people who do not have sufficient space to store temporary items. This independent ground-level container that is movable and may be placed anywhere on the property provides you flexibility, easy access to your mobile phone, ensures intruders keep out of your property. It also gives you the ease of a storage space in your business or home, making it simple to move around and organize items in your storage unit. You can get a wide array of mobile phone storage that vary in size and features, such as jutting and lighting.
Cloakroom Equipment :
The cloakroom equipment is basically intended for schools, shops, medical facilities, gym, industrial plants, sports facilities and also for security and rescue services. The cloakroom equipment is built to allow maximum use of interior space for storing clothes and other things for easy and safe usage. The structure is welded in such a way that it's sturdy with high durability and functionality that can be effortlessly cleaned and maintained. Moreover, the assortment of accessories that facilitates include wardrobes, hooks, cloakroom benches and more.
Hope this bit about different types of storage units is useful to you. If you have any more information about several storage structures, do share.