The modern schools is a complex institution; between schooling, costing, staff management, keeping the teachers, parents, and, ultimately, students happy, by fulfilling their little requirement. One such necessity that commonly arises is the storing facility.
Whether you are a teacher or a student, if you have an entire day ahead of you with several different classes, seminars, and workshops to attend in various parts of the campus or building premises, the personal belongings can be a nightmare. This is why the school lockers are an essential equipment; they are no more an extravagance but necessity.
Nowadays, a lot of schools are installing storage lockers made of metal, steel or plastic depending on their location: indoor or outdoor. There are a lot of advantages of having lockers when it comes to storing, you can put your clothing, stationary, books, and other possessions in the school lockers and focus on your core task without tiring and worrying. Moreover, learning how to use lockers appropriately, including the circumstances or environments that surround its usage, actually reflect a variety of situations that students will encounter in the future.
General Tips to Buying the Best Lockers for School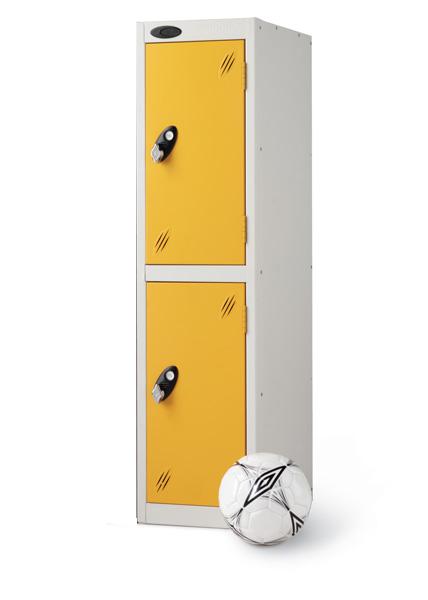 School storage lockers are useful and are essential for any school, college or university. They support in keeping your life and work composed as well as serves as an excellent space to dump things off on the go. If you have decided to purchase a storage unit for your school, make sure to maintain the standard and consistency. For instance, you would not want to buy half of your school lockers made of wood and rest half of plastic.
Having a uniformity will make your school look refined and like you mean business. Also, make sure to purchase similar size lockers throughout the room. It would be biased on students for some of them to have large lockers, and some have small ones. Whatever school lockers you do decide on your students will be beneficial as they would have some space to store their stuff.
6 Reasons Why Schools Must Install Storage Locker?
Support a Crime Free Campus:
Students, as well as teachers, want to spend their day working in a place where their belongings are all safe. To provide them a crime-free school, college or university campus lockers are fixed. This unit prevents theft and misplacement of possessions and eliminates any potential criminal's temptation.
Maintains Neatness:
There is a famous adage that "Tidiness is next to Godliness", but by seeing the condition of individual schools, they seriously have a long way to go. With an increasing number of students in schools, it's indeed difficult to keep the school corridors uncluttered. School lockers are the right solution to keep lobbies clear, spick-and-span, with a range of styles and colors available. Furthermore, you can perk up your school passageways while you are at it.
Responsibility:
Allotting students, their space will educate them about responsibility. They will learn to collect, store and carry their items with care, and take on the responsibility of making sure they are taking appropriate books and paraphernalia for each class. Permitting them this little bit of freedom will drastically improve their time-keeping skills, and inspire them to take on more responsibility somewhere else.
High Level of Security:
It would not be wrong to say that security is the biggest issue in modern schooling. Giving all the students, a locker would eliminate the risk of students forgetting their bags and other things under their desks where they are accessible to steal when they can be safely placed in a storage locker.
Facilitates Teaching Staff:
To ensure that their students get the most from lessons, seminars and workshops, teachers a lot of times use several props to clarify the teaching. This is why teaching staff should be supported in increasing student's potential by providing them school locker where they can with worrying store useful gizmo and apparatus, rather than carting them along.
Helpful for those with mobility disorder or disability:
Just think that if it's tough getting about with all the items you require for a day at school, university, or college classes for a physically fit person, it's even tougher for someone with a disability. There is a range of lockers available, such as low lockers suitable for wheelchair users.
To Conclude
If you are planning to buy school lockers for your school environment, then online stores will offer you a wide assortment of storage unit along with all the necessary information. There is no doubt that these storage compartments are also available from conventional stores, yet the online stores are a great place to shop for them at economical rates meeting your budget.
This is so because these online shops recurrently launch special discounts and deals to entice prospective buyers. The rates can be negotiated further if you are looking to buy the storage compartments in huge bulk. These shops can also provide you customized storage solutions to fulfill your specific need.