Are you planning to organize your office or warehouse equipment? Have you spent hours browsing through the mind-boggling range of options for industrial wardrobes and cupboards, leaving you confused about which one to choose from? In current times, shopping for any product, online or in-store, can be an exhaustive task. Selecting a wardrobe that blends well with your industrial storage needs, the space you have and budget needs careful planning.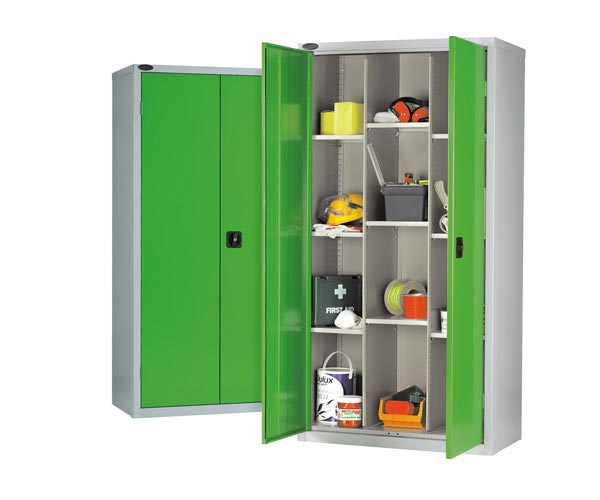 While an industrial wardrobe usually comes assembled with a no-fuss design providing a combination of shelves and garment hanging rails, there are a few important points you must consider before buying this product.
Listed here are guidelines on how to buy an industrial cupboard that meets your needs.
Assess your storage needs
Always assess the quality and quantity of your storage needs before choosing the cupboard. What kind of industrial equipment needs to be stored? Does it include items like hazardous chemicals, medical supplies, heavy industrial equipment or light-weight industrial tools and garments? There are models available for almost every type of item in today's market. Pick what best suits your needs while ensuring that it is designed for safe and secure storage according to industry standards.
Select the Right Size
Decide on the size of the cupboard based on the extent of equipment that needs to be stored and the available space in which to place your cupboard. Pay attention to size details including dimensions like the height, width and depth of the cupboard to meet your specific storage needs.
Focus on Material and Load Capacity
When dealing with industrial storage, safety has to be a priority. It is important to consider the material and load-bearing capacity of the industrial wardrobe. Ensure that the material is strong and robust to bear the heavy-duty industrial wear and tear. Check if the product is assembled securely with no loose parts anywhere. Every cupboard has a specific Uniform Distributed Load or UDL value which is the weight limitation of its shelves. Ensure that you select a cupboard with the appropriate UDL value after carefully assessing your load-bearing requirements.
Explore the Types of Wardrobe Cupboards
The days of one-size-fits-all, dull and grey industrial storage equipment are long gone. Choose from several designs and styles catering to your specific needs and sensibilities. The designs vary in colour, locking mechanisms, the number of adjustable shelves and the way they are organized. For instance, an Industrial Wardrobe Cupboard used to store a combination of tools and garments, usually has a combination of horizontal shelves and a space for vertical garment storage with a hanging rail, while a standard has only end-to-end horizontal adjustable shelves.
Match Your Budget
As with all long-term purchases, price plays an important role in your decision-making. Fortunately, there are a large number of options available in today's market that could match your budget without compromising on quality. Compare products for quality and price to get maximum value for money. Price ranges will vary depending on size, quality of material and load capacity of the Industrial Wardrobe Cupboard. Pick a piece that successfully meets your financial needs while providing a practical solution for your need to organize.
Check all Boxes and Buy with Confidence
Industrial cupboards may not be something that you buy every day. Spend some time to plan before you buy the product. While getting a 100% perfect fit may be difficult, make sure to follow these guidelines to get the closest possible match. A little research always goes a long way.