Staff lockers have become an important piece of furniture in the office premises. They are an epitome of discipline, productivity as well as safety in an organization. Their existence in an organization has become mandatory irrespective of its cost.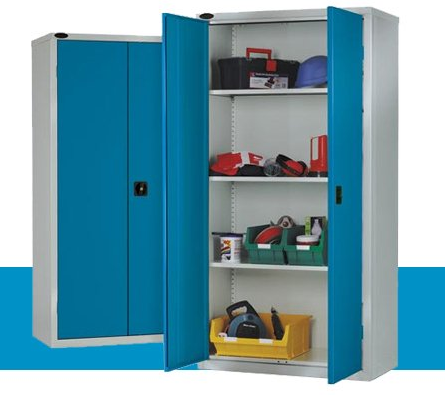 There are many storage options floating in the market. Are you in the hunt for a storage solution that perfectly fits in your budget? Here are the different types of staff lockers to consider within your budget. Read on to find out.
A. Types of locker according to functionalities
With increase in the number of needs and requirements, the world of storage solution has come up with a wide range of options to choose from. Owing to this, you will encounter different types of storage solutions gracing the market. To pick up those solutions that would fit in your budget would be a bit time-consuming, but the end results would be worth the efforts.
Let me introduce you to a few storage options according to the different functionalities that could fall within your budget. Read on to find out.
1. Standard Lockers
Standard storage solutions are one of the best options to consider for storage solutions that perfectly fit in your budget. This type of locker option is one of the most commonly used storage solutions across all industry domains. Apart from the budget, this option has been consistently in demand due to its modest functionality over the years.
2. PPE Lockers
PPE (Personal Protection Equipment) lockers could be considered as one of the relevant options for your staff to store all the personal protection equipment. This storage option could be best considered for industrial workplaces. They would not only prove to be the perfect place for storing things but also proves to be a profitable option for your organization as well as the staff members.
3. Wire Mesh Lockers
Wire mesh lockers are yet another staff storage option that could be taken into consideration for your organization. This would prove to be the best option when it comes to providing a storage solution along with acing up the security of the premises within a reasonable budget.
4. Laptop/Mobile Lockers
Investing only in laptop storage or a Mobile Phone Storage option instead of a standard storage option could be a profitable deal. It would also save space apart from saving on money, as these storage solutions occupy but a little space.
B. Types of locker according to the material used
There are many factors that determine a storage option's true monetary value. The company that manufactures it, the brand value of the company, the functionalities of the storage option, the size, quantity and also the material used. Let me walk you through some of the points that will help you with buying
budget staff lockers
for your organization according to the materials used. Read on to find out about them.
1. Steel Lockers
How about opting for a staff locker that is made out of steel? This would not only prove to be a durable storage option but could also be an economically justifiable storage solution. One can consider investing in this type of storage solution if you have a limited budget to be spent on the storage options.
2. Plastic Lockers
Plastic could be yet another important storage option that could be taken into consideration for a budget-friendly storage solution. This type of storage solution is considerably gaining prominence over other types of options. Having said this, it could be a worthy purchase for your organization in terms of budget as well as functionality. Whether it is with functionality or the durability or the budget, plastic lockers are never out of fashion.
4. Wooden Lockers
Wooden lockers could also be considered for your staff when it comes to investing in a cost-effective storage solution. This type of storage solution will not only make it easy to maintain a level of discipline and cleanliness in the office surroundings, but will also help to generously add to the office decor.
Conclusion
Above-mentioned are the different types of
budget staff lockers
that can be considered for your organization. Apart from these options, you can prefer going in for second-hand storage options as they would be comparatively less costly.
Moreover, you can very well grab all the lucrative deals and discount coupons to buy storage solutions within a limited price. It is not only the storage option types that will fetch you a huge sum, it is the additional features and accessories that will give a bulky pricing to your budget. Also, do not forget to compare the prices and accordingly take a decision that best suits your budget.