We are heading the Gen-Y, where the power to explore and invent is unlimited, but along with it comes a lot of insecurities that grip us on a daily basis. The data hacking in the digital world is simply very common. There are different methods through which data can be hacked but there are even bigger solutions that helps us to save the data from getting hacked. One such solution is to have one single point charging device in an organisation where the gadgets like mobile or laptops or any such electronic device can be charged all together without having a slightest doubt of someone accessing your phone or it getting stolen.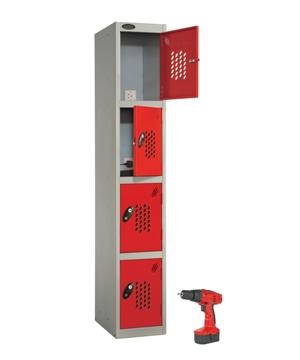 The investments in Power Tool Re-Charge Lockers is one of the best investments one can make in the dynamic world of Artificial Intelligence and Ecommerce or Digital world. In the organisations, this charging lockers are a common scene where employees can keep their device for charging without any worries looming over their heads while they are at work. The shelving store provides a secured and safe locker for all the charging needs in an organisation or factory workers. It's a new invention in the dynamic work place or retail stores where customer engagement is highly important. By installing a charging point, it gives an overall positive approach in the system and helps individuals feel less anxious about their phone batteries dying off.
User-friendly, Re-charge Lockers!
As much as a person is used to using his smartphone or a gadget to work on, he/she is equally accustomed to charging his/her phone. In the similar way, a mobile charging station or any kind of re-charge locker serve the same purpose. These lockers are user-friendly charging stations that decrease the anxiety levels of individuals since according to the research, a person with low batteries and having charging station close-by, is at mental peace.
The user-friendly charging lockers are the best fix for solving the need of charging mobile phones or any kind of gadget. It is a safe and secured method of charging that also helps to maintain the privacy of individuals. For a business to prosper, it is highly important to keep their customers engaged whether virtually or at a retail outlet.
Charging cell phones at the charging station is as much a similar step as someone charging their cellphones at their homes. Hence, mobile charging stations serve an easy way out to create less anxiety amongst the potential customers. This in return, will help them to be at ease and can do their buying well without any disturbances in the mind. There are, as a matter of fact, lot of benefits that a business primarily does not realise but the benefits are manifold.
How your business can largely benefit by installing a charging station?
Charging stations are go-to destinations in bigger malls, institutions, factories or retail outlets. It means the business values the people who are visiting them, it's a great way to bond with the people at your store.
Lockers facilitating security – Locks are the very reason people buy lockers so that their items can be stored without any concerns of them getting misplaced or robbed. Lockers give a sense of security to the people who are using them. Hence, it is of utmost importance to consider lockers with good digital locks that provides utmost security and made up of sturdy hard metals.

Lockers having longevity quotient – We often buy things that we think are lasting and durable and with lockers, the expectations are all the more since they are investments, that someone does once or twice in their entire lifetime. These lockers are custom made hence they are not changed frequently. One can get high quality Cheap Staff Lockers at the most economical rates. Hence checking on the materials used and finishing done is important while buying locker systems.

Lockers giving good functionality – While buying lockers or custom ordering them, one must always ensure that lockers are actually giving them benefit whether they are used on a daily basis or used once in a year. It must fit well in the given space and shouldn't be a blockage for anyone, once it is put to use.

Lockers with good quality material – Lockers are available in numerous varieties, that is they are made with different shapes, designs, colours and sizes. Metal lockers are suitable for public places while plastic lockers could be more accommodating for office type of environment. Hence, it is important to know the purpose and the place, the lockers are being bought for.

Lockers with economical pricing – Most lockers are manufactured on a vast scale, hence that brings down the final costing of the lockers. Also, the raw materials for making lockers is easily available locally, hence the cost of overall make, comes down. These lockers are available at the best price which are custom made and provides a good value for money.
The charging stations give enormous value to the business because it helps a customer with the mental satisfaction that they can charge their mobiles while on the go. A customer who is searching for a charging point and doesn't find one, will simply walk out if he doesn't find any point to charge. Hence, Power Tool Re-Charge Lockers in a business gives a competitive advantage improving the business relations with the customers.
The research states that, portable charging stations supports almost 98% of smartphones, tablets and laptops. The power charging stations can charge any type of device and can be altered based on the requirements. The Shelving store offers a reliable option for charging cell-phones increasing the brand value of the business.
What is inside the charging lockers?
The charging lockers are typically the same as the usual locker system, but has slight changes, it consists of –
The companies can have custom graphic panels that display the company's brand colours or any pictures that portray the image of the organisation. The charging lockers can be fully custom-made according to the business requirement that can attract even more foot-traffic in the business outlet. If the business is using the charging station for commercial gains, then it can be custom made to give access to members with RFID tag or card swipe system. It is a power tool that is safe and secured and can be placed outside or inside the store.
The Recharge 4 power tool lockers offers following features –
4 door locker system having capacity of charging 4 power tools at a time.

Availability of locking options

Perforated front and rear panels for dissipation of the heat generated

Custom choice of colours for doors and carcass

Availability of different accessories.
The charging lockers are easy to clean and comes sanitized with power coating that helps to avoid any kind of rusting. They are easy to operate and are one of the most convenient modes to provide multiple charging options for business retail outlet or any kind of organisation. The workers can work efficiently and give better output with charging options available at their workplace. The clients at the retail outlet, feel comfortable and would spend better and more time at the store if they get to charge their mobiles while you market your products.