Whether you are a business owner or administer a school, if you wish to provide a safe place for your employees/students to keep their belongings, the best solution is to install lockers in your building. A personal effects locker is one such option that has started gaining prevalence in recent times due to its aptness and advantages.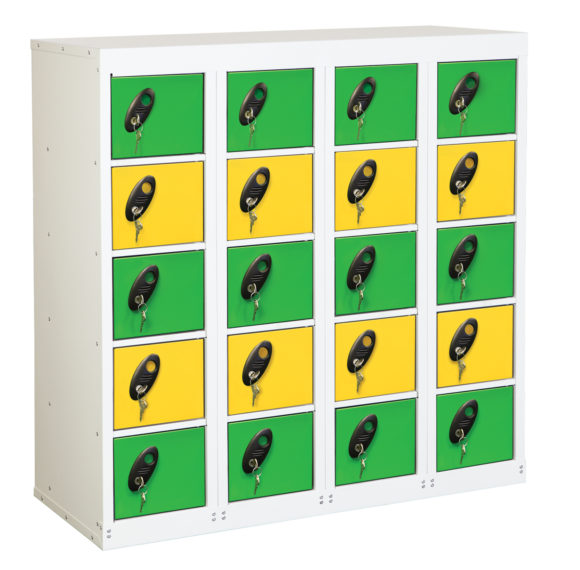 Personal effects lockers are excellent for small and cramped spaces in settings where you need to store small valuable essentials ranging from mobile phones/laptops to wallets, keys and jewellery. These types of lockers help to provide increased security while the staff and students are busy working or studying. Since lockers will remain as a permanent fixture in your building, it is crucial to choose a perfect version that you, your students, or your employees will like and actually use regularly.
Here are such 5 features you should look when decking your office with new lockers.


Your Requirement
Lockers are meant to be secure, that is why you need the installation, matching the safety needs of the user. Before making a hasty decision, you should discreetly ascertain the items of the users that require the safekeeping first and then, the type of locks and features that are best to keep those possessions safe.
You can choose from simple locks, digital locks and combination locks to provide suitable security for the essentials. If required you can also buy lockers that are powder coated with a coat of anti-bacterial paint to keep valuables germs/bacteria-free.
Also, identify the locations where you would fix them. This will help you get a decent idea of the required size and shape of the units to complement the available space without hindering the passageway or the light. Once you decide your purpose and requirements, you can take a quick pick from the different shapes - low, high and cube lockers - to fulfill your storage needs.


Durability of Lockers
As already mentioned, these lockers are likely to be a permanent installation that requires effort, time and money to get installed. You won't want to bear the expenses now and then to get them fixed if damaged easily. Hence, you need to have lockers that are durable, essentially able to withstand the daily wear and tear, and the test of time.
Research well and cross-examine the settings where you want the lockers mounted. Accordingly, choose the version which can last for many years to come. You can compare and buy personal effects lockers online to pick the best from the lot easily.


Additional Features the Lockers should have
Functionality is one of the crucial element one should pay heed to keep the lockers relevant and in use. Determine the size, and type of items for which the lockers are needed. Even if not in use, the lockers should fit the space and blend well in the said environment. Before you buy personal effects lockers, be sure to speak with an expert and ask for an appropriate version that is in line with your requirements.


Type of Materials Used
There myriad of options available in the market to choose when it comes to material and look of these lockers. You can either get them custom made or ready to install variants using materials like steel, plastic or wood. If you are planning to get them for moderate use that is available in multiple colours, go for the plastic ones. Otherwise, metal lockers are a prominent choice for school and office locker-room settings.


Pricing of Lockers
Cost of the lockers is another determining factor for most people. Ensure to consider all the factors that will add to the total cost of these lockers such as installation charges, delivery charges, number of units required and material used. Choose lockers that won't dig a hole in your pockets, but also, make sure not to pick a low-end quality based on its price entirely.
Getting the low-standard version of lockers year after year will eventually cost more than getting the ones which are durable and are of good quality at first.
Get Personal Effects Lockers
Lockers are indispensable piece of equipment if you want to keep your personal belongings, company assets, and pricey electronics safe and secure from damage and theft. Having a reliable and quality lockers installed in your building will ensure to maximise the floor space, providing clean and tranquil environment for everyone. Shelving Store offers services and a range of products that will meet your needs in the best possible manner.
Don't wait! Determine your needs and invest in durable and stylish personal effects lockers for your premise.