Whether you are in an educational institution, office, or home, you are going to need lockers. They have become a necessary element that can be used by everyone. 'Where to buy lockers' is not the relevant question today as you can very easily get it online as well as offline. After you decide where to buy lockers, you need to know all the relevant criteria to judge the locker sellers. It is important to be clear about your preferences because the space for locker sellers is very populated. You only need to enter 'where to buy lockers' on the internet and you will be flooded with numerous online and offline options. Almost all the sellers will have websites that you can explore.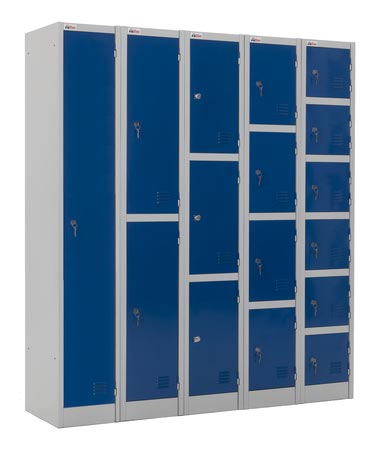 Let us take a closer look at all the factors on which you can evaluate the locker sellers.
1. Types of application
The 'where to buy lockers' query is meant to satisfy multiple users. Not every result will satisfy you. If you are looking for lockers for a specific purpose, make that your priority. You may require applications like ventilation in the lockers or password protection. Lockers come with numerous functionalities. Keep the application in mind and enquire the seller about the options they have specifically for that application. Only if the seller has them for your application, move ahead with any discussion.
2. Material
The material of the locker plays a very important role in the safety of your belonging. There are a variety of materials such as steel, laminates, and wood used for making lockers. You can decide the material of the locker based on the application. For instance, you may want a locker with transparent door panels for schools where the belongings are clearly visible, making it difficult for the students to hide dangerous things. If you want lockers for offices and banks, then you may prefer them made up of metals.
3. Lock technology
With technology, we are progressing at a fast pace. Lockers are also getting upgraded with technology. Besides the regular key and combination locks, there are many more locking options technology today. If you are looking forward to storing valuable assets in the locker, better find out the kind of security is used to lock them. You may have electronic combination or biometric locks for your locker. Once you find out from where to buy it, find out the lock technology they use.
4. Customization
Is customization all about colors? No, absolutely not. Customization is about getting a specific size, look, and functionality. Besides high-end material, you may want other functionalities in your locker such as phone chargers, LED lightings, and helmet coolers. These requirements are entirely dependent on the application of the lockers. You need to determine the things you want to store and then jot down the requirements. While you get numerous results in a search, very few sellers will offer flexible customization. Many of the sellers may mention the customization on their website. Along with the customization, keep the budget in mind. Connect with the seller over a call about the price that you will have to pay for the said customization. Lockers are going to be used for the long term, so get your negotiations right.
If you want to purchase a locker, then you can connect with us. You can visit our website to get clarity about our products. We provide lockers of various types and different applications. Get in touch with us today to get the best products at reasonable prices.