Do you find a scarcity of space in your office? Are your staff members losing crucial documents and their personal belongings more often? If your answers are consenting to these questions, then it's time to invest in best and cheap staff lockers for your office premises.
From maintaining your office space to providing a marked spot to each and everything on the premises, staff storage lockers prove to be the ideal financing decision that your organization would reap benefits from.
The market offers an umpteen number of options when we talk about staff lockers, and it can be a little overwhelming to pick the best option with so many of variants available. But, with some patience and research, you will be able to find the perfect locker that fits your budget. To help you with it, below is the list of questions to help you pick staff within your budget.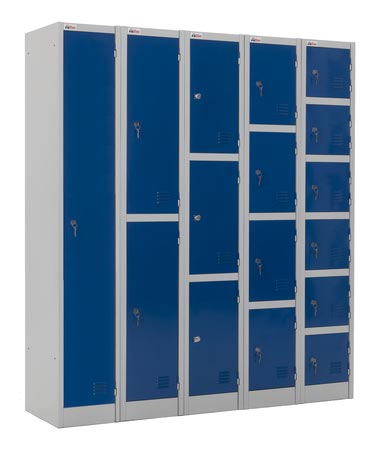 How strong should the staff lockers be?
Durability is one factor that you need to chew over to make the correct choice. Every investment in office supplies should present benefits for many years to come, and staff lockers are no exception. Having durable staff lockers that can withstand rough handling is a must for any office premise.
Can Staff Lockers Keep the Belongings Safe from Theft?
Every workplace is more vulnerable to thefts, and most times, things get misplaced often as it changes hands multiple times during the day. That's why having a secure and safe space to keep everything in place is unquestionable.
The strength of locks, ease of accessibility and adequate space are the traits that contribute to the security factor of lockers. Hence, invest in a locker that not only solve your storage crisis, but also, offers several safety features.
What should be the Size of Staff Lockers?
Have a good look at the space and roughly measure the dimensions where you would want to install the lockers. It will give you an idea to hunt down the cheap staff lockers of the correct size. Ending up installing ill-fitted lockers will defy the very purpose of organizing the available office space. Decide upon the area where the lockers would adjust properly, and then pick the right dimensions of the staff lockers for your premise.
Will it provide a Clutter-free Ambience?
The first aim of getting a storage solution is to make the office premise clutter-free and well-organized. Hence, it is vital to define your purpose and future requirements before surfing for the lockers for your employees. Estimate how many storage lockers would suffice and prove useful for your storage needs. List the choices available and pin down on what suits them best.
Whether to buy the Staff Lockers Online or Offline?
Shopping from the conventional bricks and mortar store or buying from the online portal have their own set of pros and cons. If you are looking for convenience, purchasing lockers from online platforms is the best thing to do. Otherwise, go for offline stores if you want to be 100% sure of the quality and durability of the lockers before buying.
Which Material would be the Best?
You can buy the storage lockers that are available in a variety of materials. The most common and preferred materials are metal, wooden and plastic. Skim through all the benefits and drawbacks of each material to make an educated choice.
A wooden locker if installed in humid conditions could make you grieve over the selection as wood gets moistened easily in humidity. Metal and plastics are a great choice to endure wear and tear. Ensure to compare all the materials for its good and bad sides before deciding.
Buy the Best Staff Lockers in Your Budget
When it comes to the finest staff storage solutions, there is an abundance of options available in the market. Investing in the right staff lockers is a wise decision if done sensibly. Do not forget to check the prices of additional features and accessories that add extra cost to the lockers.
List your needs and preferences before purchasing to dodge any final hour hassles.