Finding the right storage lockers can be a difficult task. There are many different types of storage lockers, each suitable for different environments and serving their own purpose.
The best way to find the right locker for you is by examining what you need it for. If you work in an environment where your clothes get muddy, dirty or wet while you work, then clean and dirty storage lockers were designed specifically with you in mind.
What are clean and dirty storage lockers?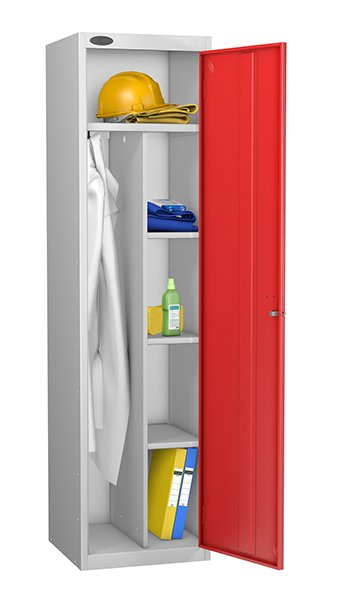 In a regular locker, it can be difficult to keep your day clothes and work uniform separate. Clean and dirty storage lockers are great for environments where separation of clothing is essential, like in the food industry, pharmaceuticals, engineering, industrial retail or warehouses.
These storage lockers are split into two sides to separate your clean and dirty garments - each side has a double coat hook to allow you to hang your clothing. They also have a top shelf for storing smaller personal items. These storage spaces are a practical and hygienic place for employees to store their workwear, whilst giving them a secure and private place to keep their personal belongings.
Clean and dirty lockers are available as a one compartment unit or a nest of two and there are seven standard door colours to choose from to suit your décor. They have optional sloping tops to prevent casual locker top storage and come with several lock options for you to choose from.
Other types of storage lockers
If a clean and dirty locker is not for you, there are plenty of other storage locker options which will suit your needs. The standard value range of storage lockers are manufactured with steel bodies and steel doors and are suitable for most workplace and academic environments, across a wide range of industries.
These storage lockers are available from a one compartment unit up to sixteen compartments. They are British built and manufactured to order here in the UK, with a delivery lead time of approximately fifteen working days.
If you require your lockers in a shorter time frame, there are some express delivery product options, such as the Probe Express Lockers, or the HERO Lockers range. There tends to be less choice of size, colour and lock options with these ranges, but they are available in as little as five days.
Choosing the best storage lockers for you
Storage lockers offer many benefits and come in a variety of shapes and sizes, while serving a range of purposes. Whether you are interested in the clean and dirty storage lockers we have highlighted above, or you think something from the standard storage locker range works best for you, we are here to help. Contact 01244 660839 or email support@shelvingstore.co.uk to find out more.