Industrial cupboards are accessible in a variety of dimensions and styles. They can securely store everything from a handful of personal belongings to hazardous and virulent substances. Industrial designs and tough cupboard compositions can be utilised to safeguard and store any number of things in a variety of settings. Industrial cupboards are suitable for both large and small objects and are offered in a range of dimensions.
Industrial cupboards are available in a range of colours, sizes, and shapes. When selecting an industrial storage unit, you must ensure it is large enough to store all the equipment and materials used at work. Additionally, make sure there is sufficient room for easy access and future additions. Industrial cupboards may be utilised for a variety of purposes. We provide a range of industrial cupboard solutions to suit any environment and location. Below we highlight some of the main types of industrial cupboard and discuss their key uses.
Standard industrial cupboards
Standard industrial cupboards have a wide range of purposes. They are extremely strong cupboards that are suitable for both commercial and office environments. They are good for storing important documents and files, to keep them safe and easy to access when needed. They are also very useful for storing dangerous or flammable substances.
The standard option is supplied with 3 adjustable full width shelves (extra shelves available on request). At shelving store we also supply 8 compartment and 12 compartment industrial cupboards which both have adjustable shelves.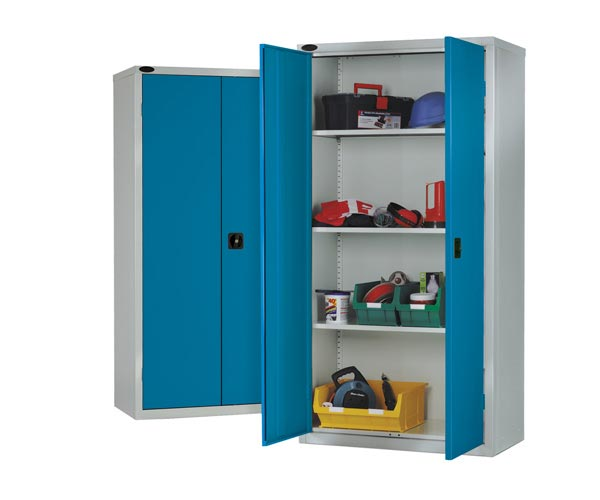 Industrial slim wardrobes/cupboards
The slim wardrobes/cupboards available are great for making the best use of the space you have. Industrial slim wardrobes function as a personal storage area when people need to change their clothes or wear special equipment in a commercial or industrial setting. They come complete with a single shelf and hanging rail. Industrial slim cupboards come complete with adjustable shelves and are great for storing stationery and equipment.
Industrial open front cupboards
These Industrial cupboards have a number of uses. They are great for easy access in the work place and are ideal for general storage and storing stationary. They can also act as a bookcase for storing folders and box files. They can also act as the perfect first aid storage space, as they provide easy access in case of an emergency.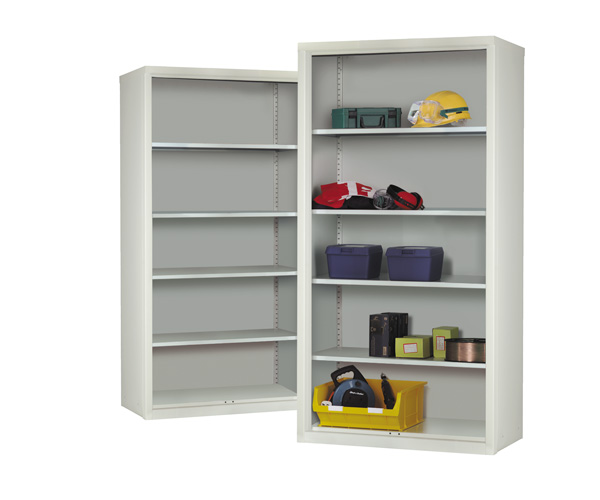 Industrial office/tool cupboards
Industrial office/tool cupboards are the ideal storage for your tools. Having a cupboard like this in the workplace can increase your productivity by making it straightforward to locate your tools, machines, fasteners, and other small objects or materials. They are fitted with a dished top to help retain tools and small item and are a great way to store items securely when they are not in use.
Janitors industrial cupboards
Janitor cupboards are a great way to store supplies in one organised placed. A useful combination of shelves and garment storage is created by a central partition. One side has 3 adjustable shelves while the other has a single shelf with hanging rail. This makes it easy to keep cleaning materials and equipment separate from one another.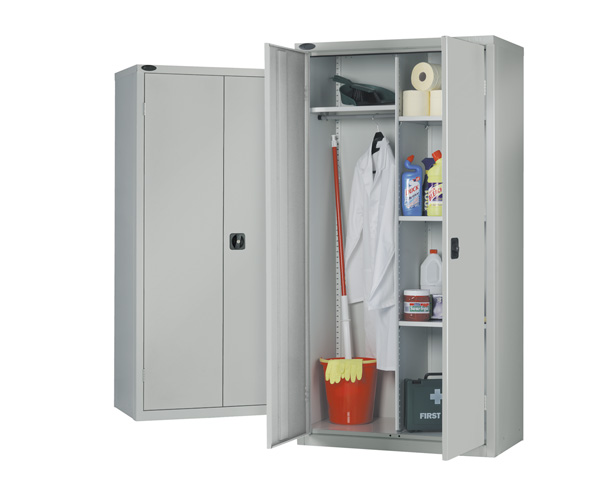 Want to find out more?
As we have highlighted above, there are many different options when it comes to choosing industrial cupboards and it can be difficult to know which solution is right for you. We provide office cupboards, commercial cupboards, and industrial cupboards at some of the most competitive prices in the UK and Europe. They are delivered to you free within the UK mainland and require no construction or installation, as they are ready to go when they reach you, saving you time and money. For more information about the industrial cupboard range we offer, please contact us at 01244 660839 or support@shelvingstore.co.uk.