Are you planning to buy storage units for your new school or replacing the old storage of your existing school? It is important to be aware of the key points to check, before buying the storage cupboards in the UK.
School storage units may be either storage locker or educational furniture like tray storage, bookcases, cupboards, storage room dividers, exam desks, office storage, instrument storage, art equipment storage and more.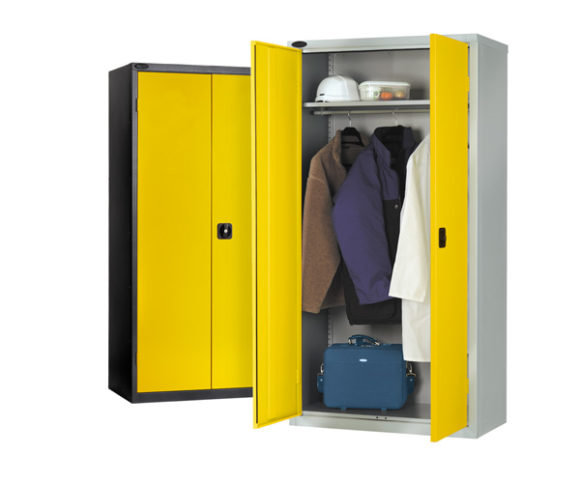 Before buying the lockers:
Since the school environment is usually busier than normal, the lockers for the school must be sturdy and robust to be handled by students. Few things to consider before buying lockers are:
Material: The material of locker may be chosen as per their place of usage. Plastic lockers may be suitable for changing rooms of swimming pools or other outdoor activities. Similarly, a laminated locker can be placed in a more exposed area such as a corridor. A metal locker is more suitable for placing in offices, staff rooms, etc. Also, the locker should be shockproof to prevent any mishandling.
Size: Lockers in different sizes are available nowadays as per student's requirements. A higher level locker will be apt for students who are 10 years and above. They have multiple doors and larger spaces. A box size locker is durable and can be used in any indoor environment. Similarly, a low-level locker is perfect for primary and pre-primary school sections. Kids below 8 years of age can easily access these low-level lockers. If you have space constraints, a multi-door locker is suitable for optimum utilization of available space.
Door Types: Two types of doors are generally available with the locker– Inset doors and overlay doors. An inset door is a popular choice for using in schools of younger children where there are higher chances of destruction or vandalism. These doors are generally set into steel lockers door frame and hence durable. An overlay door is a better choice for colleges or higher grade students who can handle them sophisticatedly. Overlay doors are fitted across the face of different compartments and are available in contemporary designs.
Colors: A colorful locker will make the area look vibrant and attractive for school kids. For older kids or college students, simple colors can be picked.
Lock types: There are various lock types available such as key locking, hasp & staple and combination locks, etc. The chosen lock should be suitable for kids to handle it. A combination lock can be easier for younger kids whereas older kids can handle both key locking and hasp & staple.
Laptop lockers with/without charging facility: Nowadays, separate locker for laptops, tablets or notebooks are also available. You may opt for a locker with or without a charging facility. Lockers with charging ports are good for older kids and college students whereas simple laptop lockers will be suitable for younger kids.
Other Storage units (without locking system):
Apart from locker, there can various other storage units in the form of trays, cupboards, shelves, etc. Few things to consider before buying them are as follows:
Quality standards: Since these storage units are for long term usage, it is advisable to confirm its quality attributes before buying. Be assured to buy the most sturdy, robust and high-quality storage units that can go well with handling by kids. Check the standards and quality claimed by the manufacturer, before ordering.
Ease of handling and Safety standards: Since the storage units are to be used by kids, it becomes necessary to check the safety standards before buying them. Make sure that the edges are smooth and not sharp. Also, there should not be any scope of getting hurt while using them. Handling storage units should be easy and suitable for kids.
Suitability for objects to be stored: You can get various storage units depending upon objects that you wish to store in them. Shallow trays, extra deep trays, jumbo trays, and tray storage cupboards are some of the varieties available for different requirements. You can get a suitable one for each of your needs such as toys, books, stationery, etc.
Home away from home:
Nowadays, most of the children spend their maximum time in school. In such a scenario, it is important to create a safe and healthy environment for kids where they can learn and grow beautifully. At the same time, it should be appealing and attractive to kids. Once you buy the perfect storage units, it will last for years to come. By keeping the above points in mind, you can plan suitable storage units for your school, to make kids feel home away from home.