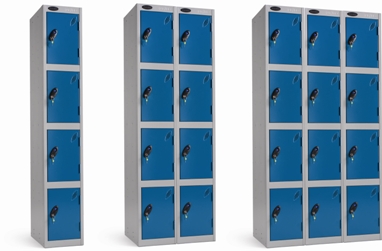 Our Steel lockers are also available to buy in nested units which will save you money compared to buying single units.
In addition to the cost savings you will make you will also save time installing the lockers.
All of the metal lockers are available in all standard colour options and you still have all of the lock options and accessories such as optional sloping top and locker stands which can be bought to fit the locker nest size required.
Read More
Locker Nest Availability
Please see below all lockers in all sizes to see if the locker you require is available as nests

SINGLE COMPARTMENT
HEIGHT WIDTH DEPTH CODE SINGLE NEST of 2 NEST of 3
mm mm mm
1780 305 305 701212 Available Available Available
1780 305 380 701215 Available Available Available
1780 305 460 701218 Available Available Available
1780 380 380 701515 Available Available Available
1780 460 460 701818 Available Available NOT Available

TWO COMPARTMENT

HEIGHT WIDTH DEPTH CODE SINGLE NEST of 2 NEST of 3
mm mm mm
1780 305 305 701212/2 Available Available Available
1780 305 380 701215/2 Available Available Available
1780 305 460 701218/2 Available Available Available
1780 380 380 701515/2 Available Available Available
1780 460 460 701818/2 Available Available NOT Available
Including double coat hook per compartment

THREE COMPARTMENT

HEIGHT WIDTH DEPTH CODE SINGLE NEST of 2 NEST of 3
mm mm mm
1780 305 305 701212/3 Available Available Available
1780 305 380 701215/3 Available Available Available
1780 305 460 701218/3 Available Available Available
1780 460 460 701818/3 Available Available NOT Available

FOUR COMPARTMENT

HEIGHT WIDTH DEPTH CODE SINGLE NEST of 2 NEST of 3 mm mm mm
1780 305 305 701212/4 Available Available Available
1780 305 380 701215/4 Available Available Available
1780 305 460 701218/4 Available Available Available
1780 380 380 701515/4 Available Available Available
1780 460 460 701818/4 Available Available NOT Available

FIVE COMPARTMENT

HEIGHT WIDTH DEPTH CODE SINGLE NEST of 2 NEST of 3
mm mm mm
1780 305 305 701212/5 Available Available Available
1780 305 380 701215/5 Available Available Available
1780 305 460 701218/5 Available Available Available

SIX COMPARTMENT

HEIGHT WIDTH DEPTH CODE SINGLE NEST of 2 NEST of 3
mm mm mm
1780 305 305 701212/6 Available Available Available
1780 305 380 701215/6 Available Available Available
1780 305 460 701218/6 Available Available Available